Skip to Content
Defective Road Accident Lawyer in Brooklyn, NY
New York City Defective Road Accident Lawyer
If you are the victim of an accident caused by dangerous road conditions in New York City, let the defective road and sidewalk accident attorneys at Forzano Law Firm represent your case, hold the responsible entities accountable, and fight for compensation for your injuries and loss.
Disrepair of New York City Roads
A report released by the National Transportation Non-profit TRIP stated that about 45 percent of New York's roads are in a state of disrepair. It is estimated that the cost of repairs and vehicle depreciation in the state due to these roads is around $7.7 billion annually. In addition, the hazards of these deteriorating roads can lead to injuries and fatal accidents.
According to a study conducted by AAA Foundation, making certain road safety improvements could reduce the number of fatalities and injuries caused by defective and dangerous vehicles.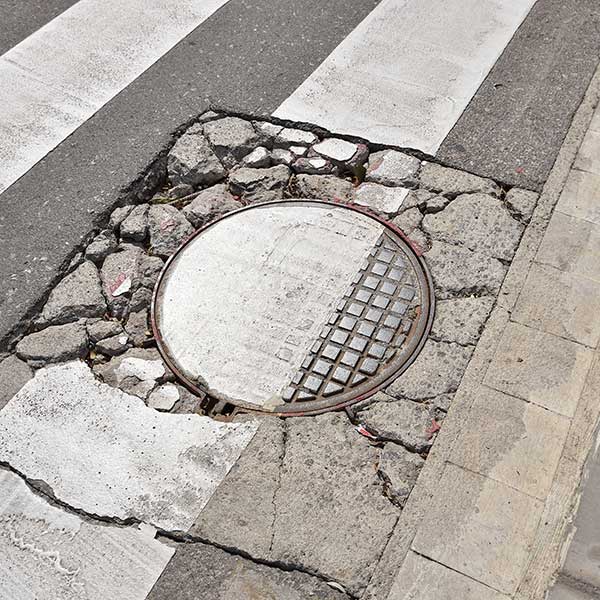 Road Defects in New York City
Road damage and disrepair in New York City are caused by several factors. There are a range of road defects in New York City, including but not limited to:
Poor street and roadway design
Inadequate, unclear, or hidden traffic signals and signs
Insufficient drainage, clogged gutters, and antiquated sewer systems
Uneven payment and potholes
Work and hazard zone confusion due to lack of cautionary signage
Defective Road Accident Liability
The responsibility for maintaining roads in and around New York City falls on the shoulders of various government entities, such as the city, county, and state governments. However, these entities are protected from liability if they perform their duties properly. This makes it harder for injured parties to pursue their claims without the help of a defective road accident lawyer.
Sidewalk Defects and Premises Liability
In certain cases, the owner of a property can be held liable for the damages caused by a sidewalk defect. New York City is not liable for sidewalk accidents that take place in front of commercial or residential properties with more than three units. If the sidewalk is in front of a one- to three-family, residential home where the owner resides, the victim may pursue the city government for liability.
Determining Eligibility for Defective Road Design Claims
It is not enough to establish that a design defect exists. A government entity must also be held liable for its failure to thoroughly study it before it was built. In addition, the agency must have been aware of the issue, with time to address it, but failed to do so. Depending on the location of the accident, multiple agencies may be involved in the design, construction, and maintenance of the road.
Injury Claims Against the City of New York
There are strict measures to be followed when filing an injury claim against the city. There are specific timelines that must be respected to comply with the statute of limitations. If you wish to pursue a claim, you must:
Determine the entity responsible for the location of your accident
Prove that the entity was aware of the hazard and failed to repair it
Prove that your accident and injury were caused by the defect
Seek the Guidance of a Defective Road Accident Lawyer
Due to the complex nature of defective road accident claims, you will want to seek the professional guidance of a reputable defective road accident attorney. Forzano Law Firm's defective road accident attorneys have the knowledge and expertise to successfully investigate, determine liability, file your claim, ensure proper medical documentation, and fight for your deserved compensation to cover your injuries and damages.
Injury Claims Procedure
To file a defective road injury claim, you must first file a Notice of Claim to formally notify the entity. This provides the agency with sufficient time to respond to your claim. If your claim is accepted, they are taking responsibility to compensate you for your damages. If the claim is denied, you must then file a lawsuit against them to pursue your case.
Trust Forzano Law Firm's Experienced Brooklyn Attorneys
Get the representation you need to succeed in your defective road or sidewalk accident case. Forzano Law Firm's attorneys have backed countless clients in their legal proceedings against the city, state, and individual property owners. If you have been injured due to a defective New York City road, contact our professionals to discuss your case today.
Start the Path to Recovery and Monetary Compensation with The Forzano Law Firm